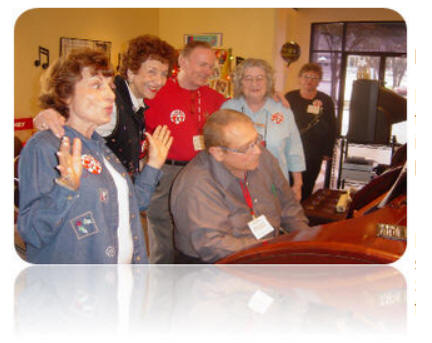 Playing the Organ is Fun & Rewarding
Learning to play the organ isn't boring. Actually, our students have tons of fun in our group instruction classes as well as private lessons.


Playing Music is Proven to be Healthy
Either way, learning to play the organ is fun. Studies suggest that music aids overall health of body and mind. Some of our students claim that playing the organ lowers blood pressure and stress levels. They are more relaxed after each session.
To put some fun in your life

contact

us for specific class times or for private instruction.
Current Organ Class Schedules
Private Lessons:
Appointments are available to fit your schedules. For more information please
contact us.
Group Instruction: Cheryl offers group theatre organ classes twice monthly on an Allen 321QSP or on a Wurlitzer 4/24 Theatre Pipe Organ. These two hour classes are $10 per person. To learn more and to enroll please contact us